Lobster AR2000HA - Pneumatic-Hydraulic Power Rivet Tool
Product Code: AR2000HA
2-3 Days Delivery
Please contact us to check for delivery on this item.
Reviews
There are no reviews for this product yet.
Description
Lightweight, with excellent power-to-weight ratio
Soft-Set shockless technology offers ergonomically correct action to minimize risk of CTDs (cumulative trauma disorders)
Ultra Jaws for longer life
Noise-reducing muffler
Sets up to 1/4" (6.4mm) standard rivets in all materials
Wear-resistant surfaces extend tool life
Air whip hose can be connected to either side of tool for flexibility in use
Long stroke
The 2000 Series riveters are built with a high impact polymer case to deliver value and performance in a lightweight, powerful package. The 2000 Series features a quicker rivet setting cycle and longer stroke for increased productivity. Lobster's exclusive Soft-Set® shockless technology absorbs jarring vibrations, which enhances worker safety and minimizes the risk of cumulative trauma disorders (CTD's).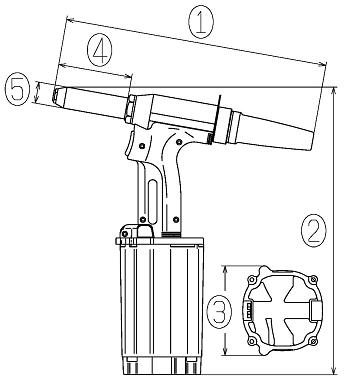 | Model No. | (Product) weight | size1 | size2 | size3 | size4 | size5 | Use range | Operating air pressure | Usage jaws | Traction power | Retail/User prices | Remark |
| --- | --- | --- | --- | --- | --- | --- | --- | --- | --- | --- | --- | --- |
| AR2000HA | 1.600g | 297mm | 325mm | 106mm | 84.5mm | φ24mm | φ4.8・6.4mm※ | 0.5~0.6 | "H"Ultra | 12 | open price | ※It can be used with an optional part (option) φ2.4、3.2、4.0mm. |